Goodreads Summary: When Kristin Lattimer is voted homecoming queen, it seems like another piece of her ideal life has fallen into place. She's a champion hurdler with a full scholarship to college and she's madly in love with her boyfriend. In fact, she's decided that she's ready to take things to the next level with him.But Kristin's first time isn't the perfect moment she's planned—something is very wrong. A visit to the doctor reveals the truth: Kristin is intersex, which means that though she outwardly looks like a girl, she has male chromosomes, not to mention boy "parts."Dealing with her body is difficult enough, but when her diagnosis is leaked to the whole school, Kristin's entire identity is thrown into question. As her world unravels, can she come to terms with her new self?
Review
Prior to reading this book, I wasn't really aware of the term intersex. I heard of it, but never truly understood. So reading None of the Above was fun for me because I was learning something that I felt like I should have known about years ago. That's why I've been trying to read more diversely due to the fact that I'm uneducated of different cultures, illnesses, gender, sex, etc. I really enjoyed None of the Book because it provoked varies of emotions while being educational.
What provoked the most amount of emotions was when her whole school found out about her being intersex. I was shocked by the reaction. I'm from California and people say that Calfornia is extremely sheltered because we are socially diverse, have the Silicon Valley that provides a lot more jobs towards all types of people, and we look down on people who are racist, sexist, homophobic, etc. I have to agree despite the fact I was raised in a conservative household. During my senior year of high school, conservatives were considered to be the minority so when people at Krissy's school had a negative reaction, I wanted to scream. The ignorant, cruel names they called Krissy, the actions was just disgusting. They actions they did was disgusting. I wanted to hug Krissy and tell those kids to fuck off.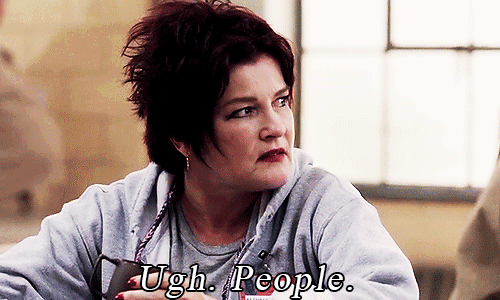 Darren (friend/love interest) perfectly stated  how I feel about bullying:
"Do you ever just wish that you can find the guy who coined the phrase 'sticks and stones may break my bones but words will never hurt me' and smash his face in?" 
Yes, Darren, I do.
It's difficult to accept yourself when others can't you and Gregorio really expressed that theme in the story.  It was hard to read Krissy being treated like crap. It was hard to read Krissy going rock bottom, skipping school, losing her friends, not loving herself, letting to diagnosis consume her well-being. Countless times, I wished I could tell Krissy to get a hold of herself. I've always been taught to face bullying head on and I wished Krissy did the same. But while I was getting bullying about petty things such as having a gorilla back (3rd graders can be so cruel) she was getting bullied because she was being denied her gender. I like how Gregorio pushes the message that one chooses your gender and sex is biology.
Gender=your choice, Sex= what you are born into
Gender=social, Sex= biological 
AND LEMME JUST SAY I was mad that the word "trans" was being thrown around like it was an insult. I was mad a Sam, Krissy's boyfriend, couldn't accept who she was and WHO WAS HOMOPHOBIC  TRANSPHOBIC DISLOYAL AF. Krissy was obsessed with Sam through the majority of the book and that's the part that bugged me. I don't know how a person can still be in love with someone who kept calling them repulsive names such as "freak" and go on denying her gender. What was also disgusting was that he didn't take the time to understand what intersex was and ugh!
One big thing that  I didn't like about the book was the character's priorities to please everyone. Everything she did was to please, impress, satisfied everyone's needs, she forgets about her own self-care and search for her own sense of self. The whole time, she was thinking "but Sam will think" "did this for Sam" and it just bothered me. At the end, I feel like although it was happy, I still feel like she has a long way to go to reach self-content. It made me wonder what if there was no boy to depend on, would she still be happy?
But at the same time, I have no idea what it's like to go through the diagnosis, so I don't think it's my place to judge.
Putting the negatives aside, this book needed to be published. It needs to be read. I encourage everyone to read None of the Above. Buy it, rent it on overdrive, borrow from a friend. It's important.
I would also like to say is that the author's note is beautifully written authenticly. Gregorio researched the topic and had the AIS community proofread the book. Worth the extra read!
If you want to learn more about Intersex/ Androgen Insensitivity Syndrom I would check out this website. The author's note also provides great informative websites and I highly recommend you check it out!
"You fall for the person, not their chromosomes"
Have you read None of the Above? What are your thoughts?