Well, if you read my title, you can probably tell what this is all about.
Yeah, I haven't posted in a while. College has beaten me limb by limb giving me no mercy. I've also been struggling to get a hold of my mental health and trying to be content about my life. It's been a difficult couple of weeks because I went through a surge of hopelessness and anxiety but I've been getting better but I know that this feeling will keep coming back so hopefully I'll learn to effectively get through these emotions.
I also gave myself a schedule to post: Tuesday,s Thursdays and Sundays!
I am determined to stick to this schedule. I want to get back to blogging because it's therapeutic for me and I love sharing my passions with you all. I also love reading your blog posts/opinions and I just wanted to let you know that you all matter to me! I hope to do better with balancing college, blogging, reading, work, etc…
–ANYWAYS, what have I been reading?–
The Hate U Give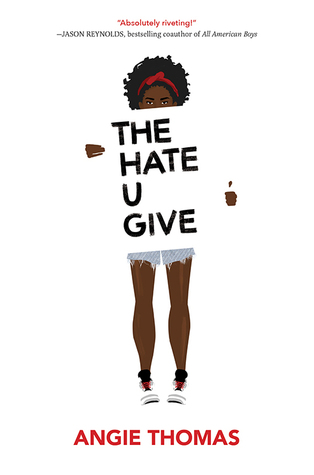 Sixteen-year-old Starr Carter moves between two worlds: the poor neighborhood where she lives and the fancy suburban prep school she attends. The uneasy balance between these worlds is shattered when Starr witnesses the fatal shooting of her childhood best friend Khalil at the hands of a police officer. Khalil was unarmed.
Soon afterward, his death is a national headline. Some are calling him a thug, maybe even a drug dealer and a gangbanger. Protesters are taking to the streets in Khalil's name. Some cops and the local drug lord try to intimidate Starr and her family. What everyone wants to know is: what really went down that night? And the only person alive who can answer that is Starr.
But what Starr does or does not say could upend her community. It could also endanger her life.
Thoughts so far: This book has angered me to no end (but in a good way!).  One of Starr's friends is literally the worst and I don't know how she could have tolerated her all this time. I never had a friend like that–probably because I live in a pretty diverse city–and hopefully, I'll never experience that type of friendship. I love Starr's dad and I love how parents are more involved in the story because it's almost rare to see that in YA. I have about 100 pages left and I really want to finish this!!!
---
Frozen Tides by Morgan Rhodes 
Summary of book 1: I
n the three kingdoms of Mytica, magic has long been forgotten. And while hard-won peace has reigned for centuries, a deadly unrest now simmers below the surface.
As the rulers of each kingdom grapple for power, the lives of their subjects are brutally transformed… and four key players, royals and rebels alike, find their fates forever intertwined. Cleo, Jonas, Lucia, and Magnus are caught in a dizzying world of treacherous betrayals, shocking murders, secret alliances, and even unforeseen love.The only outcome that's certain is that kingdoms will fall. Who will emerge triumphant when all they know has collapsed?

Thoughts so far: For some reason, I haven't been loving this series but it's one I want to continue reading. I don't know what's motivating me to read the rest of the Falling Kingdom books, but Rhodes must be doing something right if I want to keep reading.
---
–What I've been watching–
Jane the Virgin
Jane is a religious young Latina who is a waitress in a hotel in Miami. Her life takes a big turn for the unexpected when her doctor (Dr. Luisa Alver) mistakenly artificially inseminates her during her checkup.
Thoughts so far: I steered cleared of this TV series for some reason due to me thinking that this was going to be propaganda but Jane the Virgin turns out to be a hilarious, outrageous addicting show that has become a new favorite of mine. I would recommend to anyone!
What have you been reading/watching?