El Deafo by Cece Bell
Published: September 2nd 2014 by Harry N. Abrams
Page count: 233
Rating:★★★★
Summary: Starting at a new school is scary, even more so with a giant hearing aid strapped to your chest! At her old school, everyone in Cece's class was deaf. Here she is different. She is sure the kids are staring at the Phonic Ear, the powerful aid that will help her hear her teacher. Too bad it also seems certain to repel potential friends.
Then Cece makes a startling discovery. With the Phonic Ear she can hear her teacher not just in the classroom, but anywhere her teacher is in school–in the hallway…in the teacher's lounge…in the bathroom! This is power. Maybe even superpower! Cece is on her way to becoming El Deafo, Listener for All. But the funny thing about being a superhero is that it's just another way of feeling different… and lonely. Can Cece channel her powers into finding the thing she wants most, a true friend?
This funny perceptive graphic novel memoir about growing up hearing impaired is also an unforgettable book about growing up, and all the super and super embarrassing moments along the way.
Thoughts: This was sooo adorable. I found this to be amusing at time yet very educational. I'm a hearing person so it was fascinating to see how people who are deaf grow up. Cece kind of dismisses ASL and it was interesting to see behind her reasoning and how she feels about that way of language now. I took an ASL class in college and so I saw a lot a parallels between the struggles people who are deaf have to go through (people mumbling, covering their mouths, the stigmas behind people who are deaf/hard of hearing/ dismissiveness towards the community, etc).  Also, I liked how the graphic novel explored the themes of stable friendships and forgiveness two themes that are extremely important, especially for a young audience. I think children and adults will appreciate the cuteness of the comic and will learn a thing or two. This little gem is absolutely worth reading.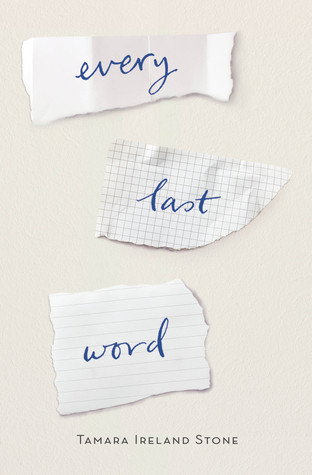 Every Last Word by Tamara Ireland Stone
Published: June 16th 2015 by Disney-Hyperion
Page count: 233
Rating: ★★★
Summary: Samantha McAllister looks just like the rest of the popular girls in her junior class. But hidden beneath the straightened hair and expertly applied makeup is a secret that her friends would never understand: Sam has Purely-Obsessional OCD and is consumed by a stream of dark thoughts and worries that she can't turn off.
Second-guessing every move, thought, and word makes daily life a struggle, and it doesn't help that her lifelong friends will turn toxic at the first sign of a wrong outfit, wrong lunch, or wrong crush. Yet Sam knows she'd be truly crazy to leave the protection of the most popular girls in school. So when Sam meets Caroline, she has to keep her new friend with a refreshing sense of humor and no style a secret, right up there with Sam's weekly visits to her psychiatrist.
Caroline introduces Sam to Poet's Corner, a hidden room and a tight-knit group of misfits who have been ignored by the school at large. Sam is drawn to them immediately, especially a guitar-playing guy with a talent for verse, and starts to discover a whole new side of herself. Slowly, she begins to feel more "normal" than she ever has as part of the popular crowd . . . until she finds a new reason to question her sanity and all she holds dear.
Thoughts:  I read some reviews before diving in that this was a more Disney-fied version on mental health but I think I'm going to have to disagree on that notion a tiny bit. I will admit, the romance seemed and I wasn't really on board with Sam and AJ (note: I put ASH first because I thought that was his name lmao) because I felt like there wasn't much connection there. I felt disconnected from the other characters and even Sam at times. However, what I really enjoyed and appreciated about this book was the amazing presence and effectiveness of Sam's psychiatrist, Sue. Far too many times in entertainment/media, we see counselors and therapist as these bad guys and how people can't confide in them. It was honestly such a breath of fresh air to see that psychiatrist are depicted greatly and how she helped Sam with her thinking process rather strictly telling her what to do. I also really liked the poetry aspect of the book and it made me want to buy a journal and start writing (though it would be very bad).  I didn't completely guess the twist but I knew that some things didn't make complete sense throughout the novel. Nonetheless, that was still an interesting addition to the book itself.