It's June which means it's PRIDE month. If you have been following my blog for a while, you probably know that every June, I post and read strictly queer books. This year is no different! I can't wait to get back to both the reading+blogging groove.
Although I will be reading all queer books this month, I thought I would participate in 2 readathons that happen kind of during the same week! I have a long ass TBR this month but I hope to get through these books in the first week!
Read Your Gays (Hosted by Boston Reads Books) JUNE 3-10
Red: Read a Lesbian book
Orange: Read a Gay book
Yellow: Read a Bisexual book
Green: Read a Trans+ (Trans, Pansexual, Asexual, Etc.) book
Blue: Any book you want
Purple: read the group book – I wish you all the best
Queer Lit Readathon (Hosted by Kathy, Rogan and special host Yvette!) JUNE 1-8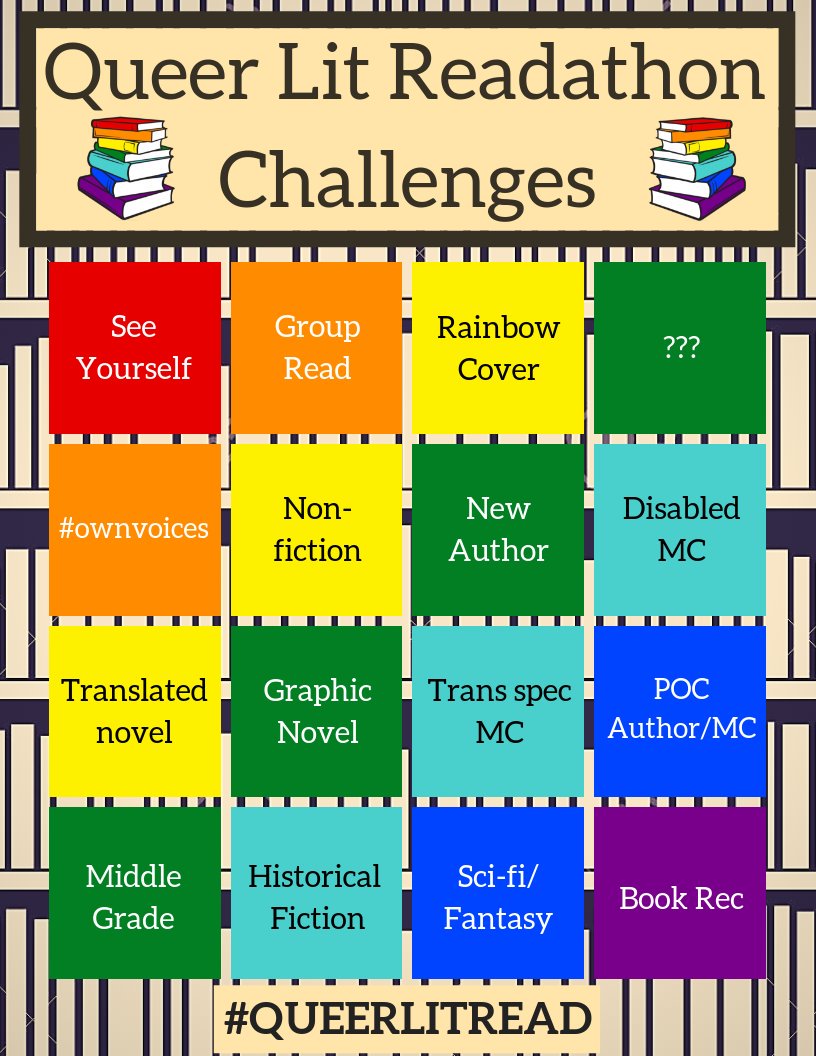 For Queer Lit, I will be getting BINGO from the first row so yay! There are some other books on my mind I'm thinking of so this list is not completely strict.
ORANGE: Non-Fiction/POC Author–>No Ashes in the Fire: Coming of Age of Black and Free in America by Darnell L. Moore
RED

 :???/New Author/#OwnVoices–> All the World Between Us by Morgan Lee Miler 
Yellow

: Rainbow Cover/See Yourself/POC MC/New Author–>Noteworthy by Riley Redgate. I don' believe this is #ownvoices but I could be wrong but I also plan on reading Bad Feminist by Roxane Gay –>Nonfiction/See Yourself/PC Author
PURPLE

: New Author/Book Rec/#Ownvoices–?

 I Wish You All the Best  by Mason Deaver
BLUE: (POC Author+MC/Book Rec–>The Love & Lies of Rukhsana Ali by Sabina Khan + More Happy than Not by Adam Silvera –>#OwnVoices/Sci-fi/Book Rec/POC Author
GREEN: Trans spec MC/#OwnVoices–>Birthday by Meredith Russo
I really plan on reading a lot this month and I have some exciting post in the works. I would say I'm sorry for the long hiatus but I always disappear so let's just say I'm back! And no more school until September so expect a lot of me this summer season!
What are you reading in the month of June? They're a lot of queer releases (INCLUDING A NEW CLAIRE KLANN BOOK) so hopefully, this will be an amazing reading month!