Alright, I am a huge TV watcher.  I've watched a lot of Netflix Originals and I've determined these are the best (well, I guess in my opinion but I'm pretty sure I'm right)
Chewing Gum
Okay if you were going to only watch one show on this list, Chewing Gum is the show to binge. It's a show about Tracy wanting to have sex and her just discovering the world around her. Hilarious dialogue, POC characters, British Slang, Social Commentary,  Sex Positive, what else is not to like? Episodes are only about 30 min long and there's 6 episodes per season so you can finish this whole series a day. The only downside is that iT'S ONLY 2 SEASONS AND I WANT MORE. This show is Netflix's hidden gem and it's honestly a must-watch. AND it's written by the main character herself so BONUS.
BOJACK HORSEMAN
When you first see this show, you may think that it's some type of typical adult comedy. This follows a 90s sitcom star, Bojack Horseman and how he tries to navigate his life as a "wash-up" actor. However, this show is so much more than that. This show turns dark in later episodes and is all about existential themes. Some people give up on the show because our main character is unlikable. I mean, he's arrogant, pessimistic, disappoints almost every character, makes horrible decisions. Some people stop watching because it gets to "depressing." I personally think this show is stunning. At times, I want to shake Bojack but other times I want to hug him. THE LAST TWO EPISODES OF THE LATEST SEASON OH GOD. TW: Alcohol/drug abuse, depression
Stranger Things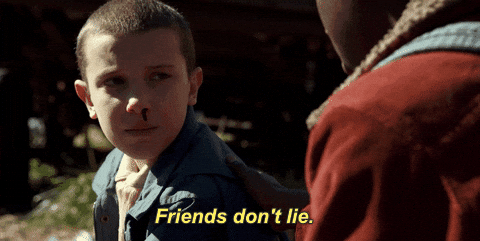 I am not the biggest fan of science fiction (apart from star wars), but man this show is beautiful. This is about a boy who becomes missing and the boy's friends finds this girl who can perform telekinesis. The friends uses the girl, in hopes to figure of where their friend might be. There's also a lot of strange shit going on in the entire town. Stranger Things is gripping and I would recommend to anybody who wants to get into sci-fi.
Dear White People
Alright, before yall start to judge, watch the show. This is a satire about BOTH black and white people. The show explores social commentary, millennialism, racism in universities, segregation and more. I recommend this to everyone and anyone. This is also a reminder that black face is unacceptable and I don't know why this is still a thing like wtf February this year was an honest shit show. TW: Racism, homophobia
Orange is the New Black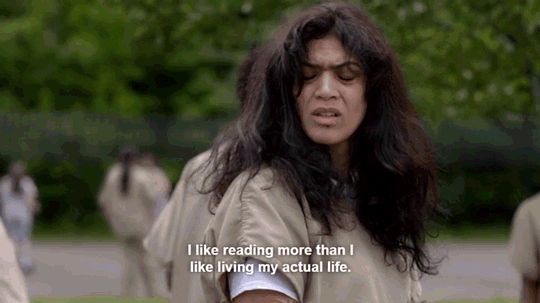 This was the first Netflix Original I watched and fell in love with. Okay, I'm going to tell you something though: the main character, Piper is the absolute worst and she does not get any better in later seasons. Also, counseling in this show is a fucking joke.  However, if you watched this show for it's amazing characters, then you will fall in love with it. There's a diverse cast: WOC and A LOT of LGBTQ. You will fall in love them all and in each episode there's flashbacks of an woman's story and how she got sent to prison. The show explores the corrupt criminal system, private prisons, the treatment of these women, etc. The last season made me so angry omfg. Also, the main writer of the show is  a  woman soooooooooooo, yes please. TW: Racism, homophobia, sexism, rape/sexual assault, drug/alcohol abuse, suicide
Honorable mentions: Luke Cage,
Shows I need to watch: The Get Down (the episodes are so long), Sense 8
Once I watch those shows, I will most likely update this:)