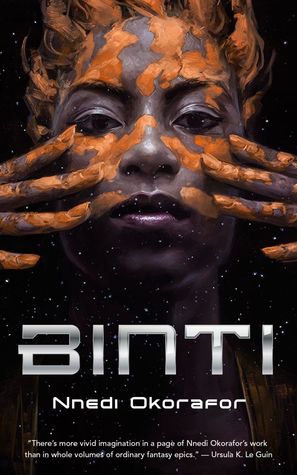 Binti by Nnedi Okarafor [Goodreads]
Her name is Binti, and she is the first of the Himba people ever to be offered a place at Oomza University, the finest institution of higher learning in the galaxy. But to accept the offer will mean giving up her place in her family to travel between the stars among strangers who do not share her ways or respect her customs.
Rating:⋆⋆⋆
Review: Overall, it was a nice, at time strangely humorous, read. Binti leaves her family to find something greater than her family already has planned for her. She got accepted into a highly acclaimed college, and throughout the short book, we follow her journey as she navigates prejudice and runs into some trouble with some vengeful aliens! For some reason, despite it being a rather short read, this took me FOREVER to finish! I don't know why and I seem to be the only one, but this wasn't a page turner for me. However, I did think Binti is a strong but flawed female character. I sympathized with her and understood why she wanted to leave her family in the first place. I might give the other books in this series a shot!
For Everyone by Jason Reynolds [Goodreads]
Originally performed at the Kennedy Center for the unveiling of the Martin Luther King Jr. Memorial, and later as a tribute to Walter Dean Myers, this stirring and inspirational poem is New York Times bestselling author and National Book Award finalist Jason Reynolds's rallying cry to the dreamers of the world.
Rating:⋆⋆⋆⋆
Review: Jason Reynolds is honestly such a gem. I decided to read this on audiobook since he narrates it and I could tell in his voice that he's passionate and optimistic. Although the message is pretty basic, he inspires his readers and listeners to keep moving forward because that's all you can do. I think I rated this book so high is because this came to me the right time. I recently dropped out of university, and I'm currently struggling through my summer courses. I feel overwhelmed, stress and sometimes I even question if college is the right fit for me. Reynolds words just wrapped around me and I may or may not shed a tear while listening. Again, yes the message is simple but one that I will keep remembering when I'm facing hindrances in my life.
Dear Ijeawele, or a Feminist Manifesto in Fifteen Suggestions by Chimamanda Ngozi Adichie[Goodreads]
A few years ago, Chimamanda Ngozi Adichie received a letter from a dear friend from childhood, asking her how to raise her baby girl as a feminist. Dear Ijeawele is Adichie's letter of response. Here are fifteen invaluable suggestions–compelling, direct, wryly funny, and perceptive–for how to empower a daughter to become a strong, independent woman.
Rating:⋆⋆⋆⋆
Review: Adichie is becoming one of my favorite authors! In this short, Adiche's friend asks her how to raise a feminist daughter, so Adiche gives her 15 tips! She talks about gender roles and equality but also about how a feminist woman can navigate through a misogynistic society. Adiche really focuses on the caretaker to enforce their daughter to be independent, let them choose their own path and support them no matter what. Adiche received some backlash over her comments on trans women saying "trans women are trans women." However, I personally believe that trans women are just women. I think Adiche was trying to say is that trans women have different experiences than cis women (which is true) and although it's all part of feminism, we should treat both issues separately. I feel that both issues relate to one another (because again, gender is a social construct). I do wish Adiche were more inclusive to trans people in this but (just a simple "not all women have vaginas" type of statement) but overall a beautiful read.
Let's Talk about Books!