I'm a college student yet I never go out during the weekends to these parties hosted by the frat houses (okay people in greek life low-key scare me). So this is a knock off version of my Friday Reads since I will be mostly be reading. Oh, I am also working 10pm-5am tonight so please send some positive vibes lmao.
So, here's what I'm reading this weekend
Children have always disappeared under the right conditions; slipping through the shadows under a bed or at the back of a wardrobe, tumbling down rabbit holes and into old wells, and emerging somewhere… else.
But magical lands have little need for used-up miracle children.
Nancy tumbled once, but now she's back. The things she's experienced… they change a person. The children under Miss West's care understand all too well. And each of them is seeking a way back to their own fantasy world.
But Nancy's arrival marks a change at the Home. There's a darkness just around each corner, and when tragedy strikes, it's up to Nancy and her new-found schoolmates to get to the heart of the matter. No matter the cost.
---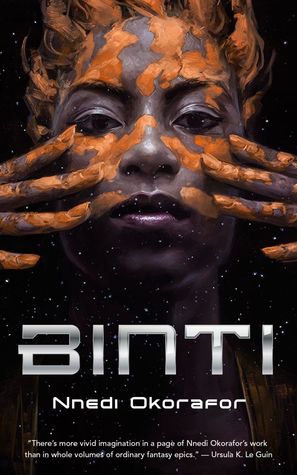 Her name is Binti, and she is the first of the Himba people ever to be offered a place at Oomza University, the finest institution of higher learning in the galaxy. But to accept the offer will mean giving up her place in her family to travel between the stars among strangers who do not share her ways or respect her customs.
Knowledge comes at a cost, one that Binti is willing to pay, but her journey will not be easy. The world she seeks to enter has long warred with the Meduse, an alien race that has become the stuff of nightmares. Oomza University has wronged the Meduse, and Binti's stellar travel will bring her within their deadly reach.
If Binti hopes to survive the legacy of a war not of her making, she will need both the gifts of her people and the wisdom enshrined within the University, itself – but first she has to make it there, alive.
---
Ask a Queer Chick is a guide to sex, love, and life for lesbian, gay, bi, and queer women. Based on the long-running and popular advice column for The Hairpin, but featuring entirely new content, Ask a Queer Chick cuts through all of the bizarre conditioning imparted by parents, romantic comedies, and The L Word to help queer readers and their straight/cis friends navigate this changing world. Offering advice on everything from coming out to getting your first gay haircut to walking down the aisle, Ask a Queer Chick is a positive, down-to-earth guide that will resonate with readers of Dan Savage and Cheryl Strayed's Tiny Beautiful Things