Is it bad that I remember all these memes when I was younger? Thank you @Icebreaker694 for tagging me in their original tag. This tag was meant for me since I'm a lover of memes (if you follow me on twitter, that's all is on my personal feed)
Rules:
Pingback to creator (Icebreaker694) ALWAYS!
Link back to the person who tagged you and thank them.
Answer the questions.
Provide a meme for each question.
Tag 7+ people, don't kill the tag!
---
GRUMPY CAT" —A BOOK YOU HAVE NEGATIVE FEELINGS ABOUT.
The Vincent Boys by Abbi Glines
Ugh, I have several reasons why I despised this book including the characters, the cheating, the slut shaming, the possessiveness. Definitely not a great reading experience  .
"WHAT IF I TOLD YOU" — A BOOK YOU SPOILED FOR YOURSELF.
Mockingjay by Suzanne Collins 
I was a bit late to the Hunger Games hype and so after I finished reading Catching Fire, I was kind of over it and looked up what happens on Wikipedia (despite the fact that I read it anyways).
"I DON'T ALWAYS MAN" — A BOOK YOU DON'T ALWAYS LIKE, BUT WHEN YOU'RE READING IT YOU DO.
The Ramona Quimbly Series by Beverly Cleary
Reading these as a kid, I absolutely adored these books. I believe I read them all. However, thinking about it now, these books were just okay and Ramona was kind of a brat.
But I still enjoy this series because it's ridiculous and entertaining!
"90'S SPIDERMAN" — A GOOD CLASSIC OR RETRO BOOK THAT'LL NEVER GET OLD.
The Virgin Suicides by Jeffrey Eugenides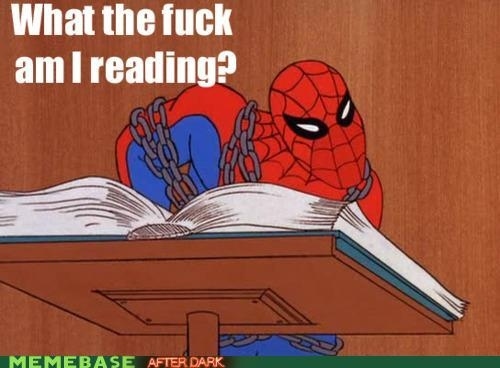 When I'm at home, I always go look at the passages and quotes I tabbed. I don't know why but I really love this book and it's one of my all time favorites. The themes of innocence and death colliding is haunting but compelling.
"MARCHING BAND MEMES" — A BOOK THAT'S VERY RELATABLE.
Suicide Notes by Michael Thomas Ford
I was really at a dark time when reading this and I related to the main character a whole lot. Although it's humorous, all what the character went through in the book is what I went through and still struggling with.
"DEMOTIVATIONAL" —A BOOK THAT YOU'VE SEEN ALMOST EVERYWHERE.
The Hate U Give by Angie Thomas
I mean, the book hasn't even come out yet and it already has a 4.7 rating on Goodreads. This is everyone's most anticipated book, including mine, and I can't wait to read it!!!
"YOU DON'T SAY" —A PREDICTABLE BOOK.
The Perfect Chemistry Series by Simone Elkeles
An okay YA contemporary series I read years ago.
"ONE DOES NOT SIMPLY" — ONE DOES NOT SIMPLY BINGE READ THE ENTIRE BOOK. (A BOOK YOU BINGE READ.)
Dark Places by Gillian Flynn
Again, every tag I do, I mention my queen. I read Dark Places in one sitting and I love love LOVED it. It's my favorite by her because I love stories about controversial cases. Libby was such an intriguing character and so were the side characters that we were introduced to. Highly Recommend!
"CHEMISTRY CAT"— A BOOK THAT TAUGHT YOU SOMETHING NEW.
None of the Above by I.W Gregorio
I learned a lot about intersex from this book. It's extremely educational and the author clearly put in a lot of research. Not the best story plot wise, but if you wanna learn what intersex actually is, I recommend None of the Above.
"PET MEMES" — A BOOK THAT'S JUST REALLY ADORABLE.
Aristotle and Dante Discover the Secrets of the Universe by  Benjamin Alire Sáenz
I just recently finished this book and I'm still thinking about how amazing Aristotle and Dante were. I just loved their relationship. I read this on audiobook and I'm pretty sure people gave me weird stares since I was smiling A LOT (listen to this on my way to classes)
TAG YOU'RE IT
Charlotte @charlotteannelise.
Emma @theyahunt
ZeZee @zezeewithbooks
Nicole @bibliophilium
Keeana @keeanareads
Jess @beaucoupbooksblog
And anyone else who wants to do this tag!!!