I decided that I want to start a new blog series where I will give quick guides to certain bookish topics.
Today I'm going to discuss the difference between diversity and representation. Now, you probably have seen these words thrown around the internet book world and sometimes, people use them interchangeably. BUT THEY ARE COMPLETELY DIFFERENT.
Definitions according to Dictionary.com
Diverse: showing a great deal of variety; very different.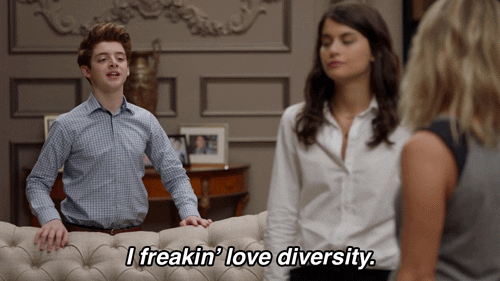 Diversity in books basically just means the book contains marginalized people in their stories. This can mean there's multiple ethnic/racial identities, LGBTQIA+ characters, disabled characters, various of non-catholic/Christian religions, etc.
Representation: the description or portrayal of someone or something in a particular way or as being of a certain nature.
Representation doesn't focus on what or who like diversity does. Rather, it focuses it's attention on the how. How well is this person represented? Is it good representation? Does the author portray any harmful stereotypes or tropes against the identity of their characters?
"Okay BLQ but why does it matter?"
Good question! Here are some reasons why it's important
1. Books having diversity doesn't mean representation
A book can have a mainly straight, cis white cast but sprinkled in some black people, some lgbtq+ characters and they will market it as diverse. I mean yay for diversity? However, this doesn't mean it's a good representation. When this occurs in books, these "diverse" characters usually don't have any lines, have no character depth or development, or often becomes a stereotype or a trope. Yes, the book is technically diverse but's it's not well-represented.
Usually, side characters fall victim to the diversity label. One way to try to avoid such thing is looking for a book where the main character is marginalized or even own voices book. This doesn't guarantee that the book is well-represented, but it's a start.  Looking at more reviews can also go a long way.
2.  Knowing the difference can make a person a better consumer
When a reviewer says, "this book is so great because it's so diverse," don't automatically assume it's good representation. Ask the reviewer if it's good representation. If the reviewer can't speak on the issue, perhaps seek out other reviewers who can. Look for "representation" in the reviews rather than diversity.
3. Knowing the difference can make you a more critical reviewer
Don't get me wrong, I love seeing black people in my books. Oh, they have a mental illness? Another plus! Oh, they are bi? Yes, diversity is comin' in hot in this story. However, do I feel represented? Do I feel like other people may feel like this may harm them? Do they portray the various stereotype black people have to endure? Is there the "love cures all" trope? Does the bisexual individual a relationship ruiner in the story?  You can ask these questions to yourself while reading. Again, also look at your fellow reviewers for help!
Last Thoughts 
It's also worthy to note that all experiences are different. I may feel represented in a book, while another person will feel that the book brought them harm.  Again, that's the beauty of the online book community. We are exposed to various identities and people with different experiences and we are able to gain new perspectives. It's okay to love a book where you felt represented. It's okay to love a book that may not sit well with another person. However, acknowledging and validating these people and experiences is what the online book word is trying to do.
Sometimes, knowing what is good representation can be frustrating. Many people read for escapism and don't want to look the diversity and representation and that's okay! However, others are also entitled to their opinions. For so long, marginalized people have had to read from the other perspective and would like to see more that's their own. Then we got diversity which was fine and all but we weren't represented. There were still stereotype and tropes and believe it or not, what we consume is how we see the world. That's why people like me advocate for representation rather than diversity.
What are your thoughts? Also, what other "quick guides" should I do next?